Thanksgiving isn't exactly something people count down to all year, but it's a part of the holiday family. It's kind of like your cousin, whose sort of fun and you don't think about him or her very much, but you're always glad once they arrive.
It's the kick off to the holiday season which will include Christmas parties, New Years Celebrations, Dirty Santa Swaps, Ugly Sweater parties, you name it. But, what about Thanksgiving parties?
We use to have them as little pilgrims and Indians, and I say we bring it back. Instead of viewing your Friendsgiving as an event where all of the lonely souls with families in distant states or countries, coming together to drink too much wine and pretend the turkey is tasty; think of it as another holiday party.
Your Friendsgiving can be held in lue of a traditional Thanksgiving, or it can occur a night, or a few nights before the real thing. After all, if you have too much Wild Turkey, all you have to do the next day is snack on Sweet Potato Casserole and nap off your leftovers anyway.
Here's how to make sure this party will leave your guest wondering, "Why haven't we always had Thanskgiving parties?"
1. Get the right supplies
Here's what you'll need to throw an epic bash. First, you're going to want to play this smart by utilizing paper and plastic to avoid doing dishes (Too much like the traditional holiday), hit up your local dollar tree, or Oriental Trading, Target, you name it and grab the necessary supplies. You will need paper plates (small and large), plastic cups, plastic wine glasses, plastic silverware, and plastic serving dishes (8-10 of these should do). You can retrieve these in brown, yellow or orange, or you can go all out and invest in Turkey themed plastic wear, which does exist.
Bonus points: Grab some fall décor and scatter it throughout your home. Pumpkins work well here.
2. Don't do all of the work
It's stressful to host a party, but if you do it right, you can have a great time also. To add to the ease of no clean up with your plastic and paperware and keep your wallet happy, request that your friends bring one appetizer and one type of alcoholic (or non, depends on your crowd) drink to share. This will allow your guests to nibble throughout the evening, rather than doing a sit down dinner (boring). You can lay out all of the appetizers on your countertop, or your dining room table, and set up the bar near by. You do not need to have a specific eating time, just let guests come in and out of the feeding area as they like. You're such a casual host!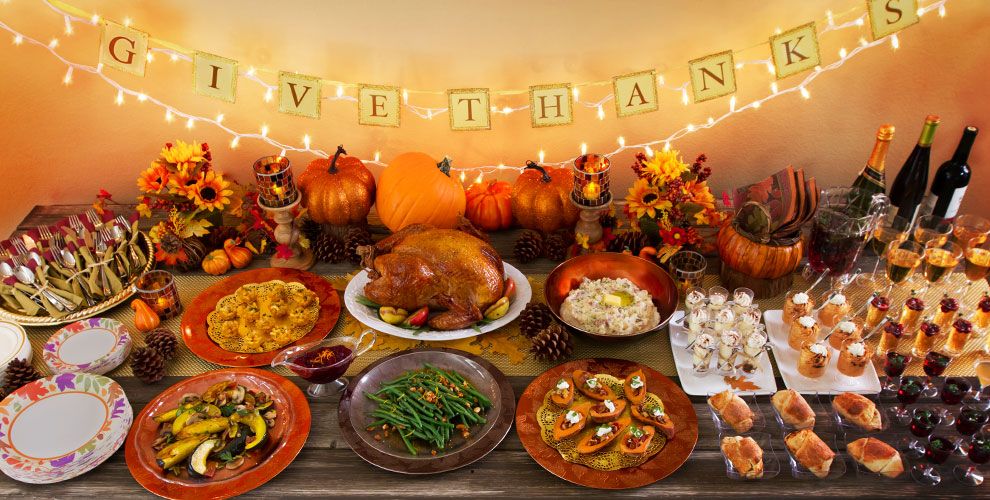 3. Invite an eclectic group of friends
Now, this ones easy, as a lot of your friends will lively be traveling on or near thanksgiving. You may want to invite a few classmates or co-workers, but not too many as it could end up feeling like a work function. Invite your closest friends, a few people you'd like to get to know better, and allow people to bring a date if they'd like. (More appetizers and drinks to share!)
Even though you're having your friends bring some appetizers and beverages, don't forget, as the host you are responsible for providing a baseline of food and booze. I'd suggest making 3-4 main, heavier appetizers and grabbing a pumpkin pie. You can also grab mixers for any liquor that's brought, a few bottles of wine and a case of beer. Keep a feel for your Friendsgiving and if people start to look sleepy, call it a night (casually) and make sure you leave everyone counting down to Thanksgiving of next year, your new party season.
Enjoy!
Xoxo
PS: Loved this blog? You'll love my book, 50 ways to magic! Click here to read.